Dit artikel is uitverkocht.
Voor vragen kunt u contact met ons opnemen. U kunt een mailtje sturen naar info@computerstunt.nl of bellen met (023) 534 4517.
Computerstunt.nl | Systemen | ACER complete compacte INTEL PC met Windows 10, renewed, SSD versie!! E 219 Art.nr: 74250
ACER complete compacte INTEL PC met Windows 10, renewed, SSD versie!! E 219
LAAGSTE PRIJS INCL. LEGALE WINDOWS 10!! Het is fijn computeren met deze ACER compacte home/office computer, geen E 349 maar slechts E 219. Met nieuwe SSD in plaats van HDD en nieuwe, schone windows 10 installatie, de harddisk is vervangen voor een 10 keer snellere SSD! Incl. 4GB (2 x 2 GB) geheugen en 60GB SSD.. renewed, ziet er als nieuw uit en komt compleet met muis en toetsenbord en Windows 10 Home voorinstallatie... NB: heeft 2 HDMI aansluitingen dus niet geschikt voor VGA/DVI monitor als u geen verloopstekkers hebt... Compleet in doos.... 1 jaar garantie carry in. Tegen meerprijs plaatsen wij een grotere SSD. DEMO van deze machine: https://youtu.be/5M5QY9ZsAw8

Maximize your creativity and your desk space.
The Acer Aspire desktop will astonish you with excellent performance and rich features in a small factor design. Measuring one third the size of a traditional desktop PC, this Aspire packs a dual core Intel processor, good amount of memory and superfast SSD to tackle your everyday needs from home computing to multimedia entertainment. This feature-loaded model also comes equipped with USB 3.0 ports and HDMI output, allowing you to make better use of your high speed peripherals and large format flat panel display.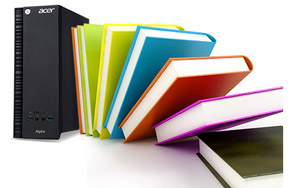 Fits in Well
Easy to place, easy to set up: Whether on a bookcase shelf, in a corner of your desk, or tucked underneath, this compact PC just fits. It's perfect for storing movies and media, as a gaming or learning machine in the kids' room, or as a homework tool for students in cramped dorms.
Full Power
Handle tasks, watch video, play casual games, and keep in touch with friends - all easy with powerful yet power efficient Intel processor and generous amount of memory. Press the power button and command your world. (Monitor not included)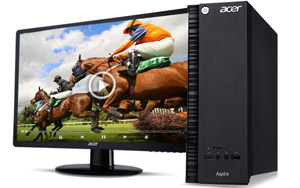 HD Fun
Wonderfully compact - and greatly entertaining - the Aspire X Series is your high-definition multimedia center. You can easily take the multimedia experience to your big screen, thanks to the HDMI port built into every Aspire X Series desktop. (Monitor not included)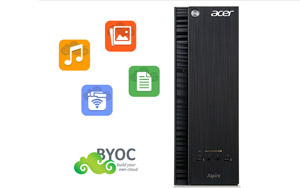 Expandable Design
Easily transfer media from your digital devices using the front-mounted card reader or speedy rear USB 3.0 port. You can also create great home videos or backup data and files with the DVD Super Multi drive.
Type
Student / Home Office
Form Factor
Slim/Small form factor
Usage
Consumer
Colors
Black
Processor
Intel Celeron N3050 1.6 GHz
Processor Main Features
64 bit Dual Core Processor
Cache Per Processor
2 MB L2 Cache
Memory
4 GB (2 x 2) DDR3L SO Dimm
Storage
60 GB SSD
Optical Drive
DVD-Writer
Graphics
Intel HD Graphics
Ethernet
Gigabit Ethernet
Power Supply
65W
Operating System
Windows 10 Home 64-Bit
CPU
CPU Type
Celeron
CPU Speed
N3050 (1.60 GHz)
L2 Cache Per CPU
2 MB
CPU Main Features
64 bit Dual Core Processor
Graphics
GPU/VGA Type
Intel HD Graphics
Graphics Interface
Integrated video
Memory
Memory Capacity
4 GB DDR3L
Memory Slot (Total)
2
Maximum Memory Supported
8 GB
Storage
HDD
500 GB
HDD Interface
SATA III
Optical Drive
Optical Drive Type
DVD?RW
Optical Drive Spec
DVD-Writer
Communications
LAN Speed
10/100/1000Mbps
Back Panel Ports
Video Ports
1 HDMI
Rear USB
2 x USB 2.0, 2 x USB 3.0 (Front and rear total)
RJ45
1 port
Expansion
PCI Slots (Available/Total)
1 Mini PCI Express Slot
Dimensions & Weight
Dimensions (H x W x D)
10.50" x 3.90" x 14.60" (27 x 10 x 37 cm)
Weight 11.24 lbs.
Standaardprijs: € 219